Magical Fantasy Themed Games and Apps to Kill the Time When You're Traveling
Have you ever been stuck in the airport and feel like another level of Candy Crush might make you lose your mind? I've been there. More than I'd like to admit actually. That's why I started looking for fantasy themed games and apps to pass the time! You'll find a list of a few of the ones I like if you keep reading. And if you love all things magical, check out my fairy tale section and my favorite magical places.
Fairy tales are those magical stories we fondly recall from our childhood. These timeless tales tell the stories of Cinderella, Rumpelstiltskin, Puss in Boots, Hansel and Gretel, and the Pied Piper of Hamlin. Fairy tales rekindle the joyous times of our youth; they leave us feeling warm and fuzzy inside. These larger-than-life adventures often pit the forces of good against evil, love against hate, and determination against adversity.
Fairy tales have endured through many generations, remaining some of the most captivating stories ever told. Our timeless journey takes us through many charming twists and turns as we explore the adventure, romance, action, and magic of these unforgettable tales. What's not to love about fantasy and fairy tales right? Check out my list of fantasy themed games and apps for you to download from the Apple Store or Google Play.
Fantasy Themed Games and Apps
Role Play Game – Guild of Heroes
Guild of Heroes is a thrilling, fantasy-themed game designed by BIT.GAMES. This role-playing game summons the wizardry of templars, archers, witches and conjurers. All of the fantastical elements that comprise fairytale games are in abundant supply with this great new game. Beware the fire-breathing dragons and cringeworthy monsters lurking in the shadowy depths.
Enter the world besieged by darkness and bring light to the people. Your warrior status will help you to overcome hordes of monsters, as you battle fire and brimstone. Challenge other players on the arena, as you join the epic battle against evil in pursuit of victory. Guild of Heroes is a tribute to the masterclass appeal of BIT.GAMES and it's larger than life heroes.
Beyond the impressive audio-visuals, players can equip characters to fight hordes of rampaging enemies in warrior class, hunter class, or mage class. The PVP-style nature of the games makes it easy to compete against other teams and to build brutal medieval weapons. Be prepared to face the most menacing monsters of all time, sword and shield in hand. Fortunately, you can also wield your magic wand in this unforgettable fantasy game. True to form, it has a stellar rating among players, with a 4.5/5 overall grade from 257,368 reviewers.
With over 5 million installations, this fantasy violence-themed RPG brings a powerful and epic story to life right before your eyes.
Wish Upon a Jackpot Slot
Wish Upon a Jackpot Slot by legendary game maker 888 has all the makings of a timeless tale. It is fashioned of all your favorite characters from the Fairy Godmother, the Three Little Pigs, Rapunzel, Jack and the Beanstalk, and Rumpelstiltskin. An eclectic mix of characters brings this story to life in a spectacular fashion. Wish Upon a Jackpot slot is expertly crafted to deliver a compelling slice of entertainment to players. 
With 5 spinning reels, 20 pay lines, and 3 rows of wondrous entertainment, this slot machine game will have you rapt from the first spin. Listen closely to the background sounds, and you'll surely hear the frogs croaking, the birds tweeting, and the sound of the crickets in the distance. This is a dream come true slot machine game for anyone with an imagination. Land 3x Bonus Scatter Symbols on reels 1, 3, 5, and you will initiate the Fairy Tale Bonus. There are 4 fairytale bonus rounds, but saying any more would certainly ruin the fun for everyone!
Fantasy Photo Editor – A Fairytale App for the Fans
Who says fantasy is all in your head – it's available everywhere, even on your smartphone, tablet, or phablet. The all-new Fantasy Photo Editor from Best Phone Apps is rated E for everyone. Now, you can transform an ordinary photo into a fairytale delight. By adding all sorts of incredible special effects to your pictures, you can jazz them up with unicorns, pixies, fairies and other imaginary characters. Relive the fabled stories of your youth, with HD photo editing tools designed for your device. Beautify your selfies, and unleash the limitless potential of imagination gone wild.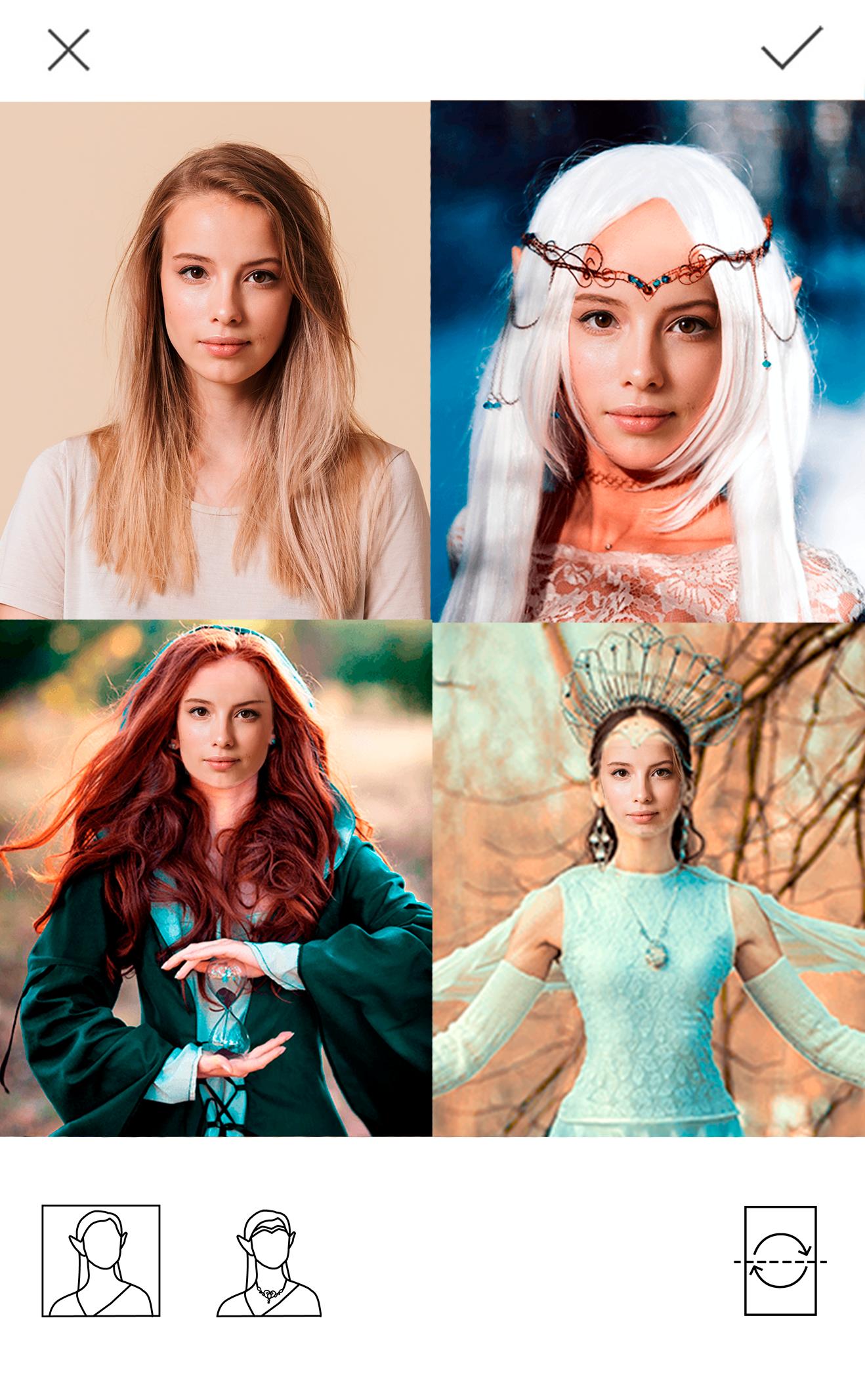 Among the many fabulous features of the fantasy photography app are stunning photo frames to finish your images, fantasy picture editing tools to decorate your pics, and fantasy photo frames for all sorts of mobile devices, screen resolutions, and social networks. It's 100% free to download and install the fantasy photo editor, and you are assured of a world-class makeover for all of your pictures. Transform your wedding day photos into a 'fairytale-esque' delight – at the click of a few buttons.
This app has even got a fabulous array of fairytale frames for you, and you can share all your pics with your friends and family on social networks. with a stellar rating of 4.0/5 by over 15,000 reviewers, this app certainly brings fantasy to life.
The Fairy Girl Costume App
There's no doubt about it: Fairies are a girl's best friend. The Fairy Girl Costume app is simply darling. Designed and developed by Unicorn Photo Apps, this photography app instantly brings a smile to your dial. So, what's it all about? Well, it's a free fairy photo editor which allows you to easily input fairy-themed elements, backdrops, frames, wings, stars and fairy dust pretty much anywhere you want in your photo. 
Among the many fabulous things available with this photo editing app are: the addition of fairy-themed hairstyles, backgrounds, and dreamy attire. You can dress like a fairy, look like a fairy, and sprinkle some good cheer just like a fairy. There are lots of different sparkly elements you can add such as stickers and rainbows, glitter, shadows, fancy dresses, sparkles and so much more. There are many photo editing tools in this app, including HDR effects, brightness, saturation, contrast, blurs, and text editing options. 
If you love Tinkerbell and her fairy friends, this is the app that will bring it all home for you. The gorgeous fairy-themed editing tools cover all sorts of elements such as hairpieces, eyelashes, eyebrows, lips, necklaces, earrings, fairy wands and more. Watch your transformation take place right before your eyes, direct from your smartphone or tablet.
With 5000+ installations and a stellar 4.5/5 rating, this is definitely a fairytale-themed costume app you want to use. Wish upon a star and you'll be right there in fantasy-land with this fun-filled app. 
The Flying Unicorn Simulator Game
Unicorns are the stuff of legend. Now, you get to experience the majesty of these Pegasus-like creatures in full flight. This mythical animal and legendary creature have been extensively written about in fabled stories and lore. The all-powerful unicorn was first mentioned in the fifth century BC, with origins in Asia. Unicorns have incredible powers and can heal disease and illness instantly. Represented by a stoic white horse with a single straight horn emanating from its forehead, the unicorn also boasts a pair of powerful white wings. 
The Flying Unicorn Simulator brings everything into sharp focus. It all begins from a standing start. Next, you start flapping your wings and take to the skies like never before. As you soar through the heavens, race through clouds, and sweep down over oceans, you will catch a glimpse of beautiful landscapes, and island paradises. Among the many fabulous features of this game are realistic animation, user-friendly functionality, mind-boggling high-def graphics and 3D artistry, and the all-powerful flying unicorn model. 
What makes this game equally appealing is that you can enjoy it even without Wi-Fi functionality – it runs off-line too. With a rating of 4.0/5 from 23,000 fans, you can rest assured that this fabled character will get you exactly where you want to be – up in the skies above, performing magic wherever you go. With over 1 million installs, this game by GT Race Games is a fairytale adventure of epic proportions.